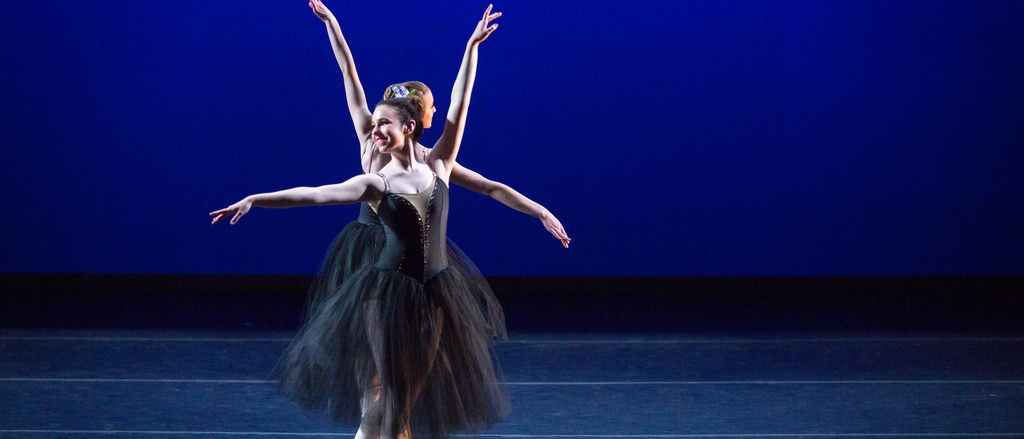 Information for Performers and Parent Volunteers
Please read last year's information, below, to get an idea of what the 2024 Spring Concert will be like. This page will be updated in December 2023 with more information about the 2024 Spring Concert.
What to Expect in the Theater
Parents of performers and backstage volunteers will find this PDF handout: Spring 2023 Information for Performers and Families (UPDATED April 24, 2023) helpful. It covers issues regarding costumes, makeup, and more. 
For helping dancers make a stage-worthy ballet bun, please watch this video from Houston Ballet Academy:
Houston Ballet Academy Ballet Bun Tutorial
Coppélia, Spring 2023
Join the UI Youth Ballet in performing highlights from the endearing ballet, Coppelia. The UI Youth Ballet Ensemble is a fantastic opportunity for level 3/4/5 students to hone their technique, engage in teamwork, and grow as artists. 
Coppélia is a narrative ballet important to the development of the performing art. It was the bridge between the Romantic era and the Classical era. As such, it challenges today's dancers to work in the tradition of expressive storybook dances, while striving for the clarity of form that came to define the ballets that followed. The music, by Leo Delibes, is inseparable from the musicality of ballet. Learning to dance in Coppélia will add richness to the dancers' education and make lifelong memories.
(Pre-ballet, Levels 1A, 1B, 2A, and 2B, your chance to sign up will come once spring semester is underway. The rehearsal process is shorter for those levels.)
Background Information
At the UI Youth Ballet all rehearsals are separate from technique classes. Keeping performance activities separate allows us to focus on providing the highest level of technical instruction during class time.
Policy for Performers
UI Youth Ballet holds performing students to high expectations for weekly class attendance.
For participation in UI Youth Ballet and Community Dance School Spring Concert, students must be in regular, long-term attendance at their level's required number of weekly technique classes through the UI Youth Ballet. 
Creative Movement 3 - UIYB class once a week
Pre-ballet – UIYB class once a week
Level 1A – UIYB class once a week
Level 1B – UIYB class once a week
Level 2A – UIYB class twice a week
Level 2B – UIYB class twice a week
Level 3 Ensemble– UIYB class three times a week, foot and ankle conditioning class once a week.
Level 4 & 5 Ensemble – Dancers fully enrolled in their level may participate in Ensemble. Dancers who have a scheduling conflict with their level's regular weekly classes must contact dnc-communitydance@uiowa.edu to ensure they meet the minimum requirement for ensemble participation via alternate classes. The absolute minimum requirement for participation in Level 4 & 5 Spring Ensemble is UIYB class four or more times a week, three or more of which must be ballet technique. Excellent attendance is required.