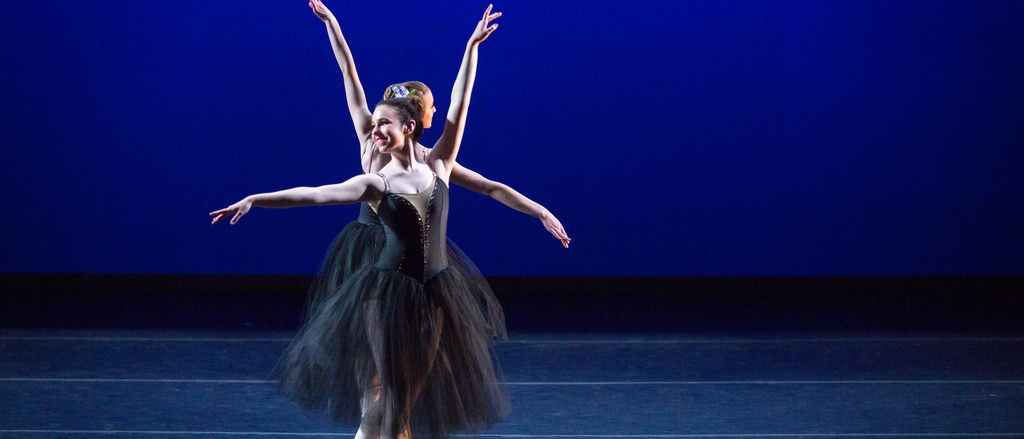 Information for Performers and Parent Volunteers
What to Expect in the Theater
Parents of performers and backstage volunteers will find this PDF handout: Spring 2023 Information for Performers and Families (UPDATED April 24, 2023) helpful. It covers issues regarding costumes, makeup, and more. 
For helping dancers make a stage-worthy ballet bun, please watch this video from Houston Ballet Academy:
Houston Ballet Academy Ballet Bun Tutorial
Coppélia, Spring 2023
Join the UI Youth Ballet in performing highlights from the endearing ballet, Coppelia. The UI Youth Ballet Ensemble is a fantastic opportunity for level 3/4/5 students to hone their technique, engage in teamwork, and grow as artists. 
Coppélia is a narrative ballet important to the development of the performing art. It was the bridge between the Romantic era and the Classical era. As such, it challenges today's dancers to work in the tradition of expressive storybook dances, while striving for the clarity of form that came to define the ballets that followed. The music, by Leo Delibes, is inseparable from the musicality of ballet. Learning to dance in Coppélia will add richness to the dancers' education and make lifelong memories.
(Pre-ballet, Levels 1A, 1B, 2A, and 2B, your chance to sign up will come once spring semester is underway. The rehearsal process is shorter for those levels.)
Background Information
At the UI Youth Ballet all rehearsals are separate from technique classes. Keeping performance activities separate allows us to focus on providing the highest level of technical instruction during class time.
Policy for Performers
While all students are welcome to attend any Youth Ballet class that is appropriate for their skill level, the UI Youth Ballet holds performing students to higher expectations for attendance than other dancers.
For participation in UI Youth Ballet and Community Dance School concert, students must be in regular, long-term attendance the recommended number of weekly technique classes through the UI Youth Ballet. It's easy to remember—the number of required classes is in the name of the student's level.
Pre-ballet – technique once a week
Ballet level 1A and 1B – technique once a week
Ballet level 2A and 2B – ballet technique twice a week
Ballet level 3 – ballet technique three times a week
Ballet level 4 – UIYB dance technique four or more times a week (level 3 optional additions), three or more of which must be ballet technique. The fourth class may be technique or one of the following: pointe, pre-pointe, or modern.
Ballet level 5 – UI dance technique five or more times a week, four of which must be ballet technique with either UI Youth Ballet or by enrolling in UI undergraduate Major's Ballet classes. Level 5 students are encouraged to take additional classes such as pointe or modern.
Masks for performers
For students who choose to wear masks while performing, we want dancers to be allowed to wear the mask style they rehearsed in all semester if they wish. For that reason, the school is not making narrow assignments on mask color for the younger levels.
If your child wears a mask of a type with color choices easily available (for example disposable masks sometimes come in light blue or canary yellow), please feel free to bring masks that harmonize with your child's costume color. This is not required though, so don't let it add stress to your life during the busy week. As long as they are plain (no words or pictures on them) your child's current masks will be fine.