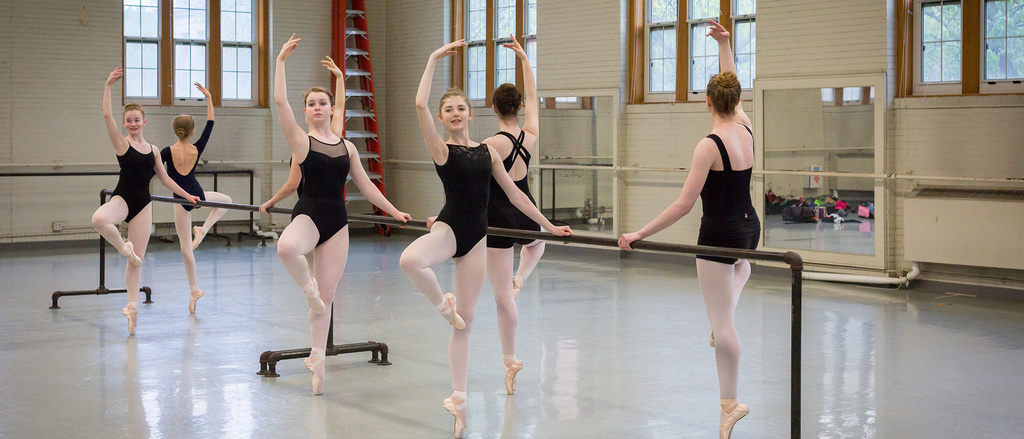 Students must adhere to a dress code.
Wee Dance & Creative Movement
Dance clothes such as leotards and tights of any color, or other clothes that allow for movement such as shorts and t-shirts. Bare feet are best for child development, but students may wear socks or ballet slippers.
Youth Ballet
Female students wear hair in a bun, leotard, flesh toned tights and ballet slippers.
Youth Ballet uniform for most levels is a camisole leotard by Capezio, style number SE1012WT. Due to  supplier issues Ballet Level 3 students are to wear leotard by Balera, style number MT757N (linked below) until further notice. The Balera leotard may be in stock locally at National Dance Academy's dancewear shop. Students are welcome to reach out to Ashlynd there for help. 
The colors for each level are:

Pre-Ballet: Ballet Pink
Ballet 1A: Lavender
Ballet 1B: Light Blue
Ballet 2A: Burgundy
Ballet 2B: Burgundy
Ballet 3: Balera style number MT757N in Eggplant
Ballet 4: Indigo
Ballet 5: Black

Male students wear black leggings or form-fitting shorts, fitted white t-shirt (plain) or leotard, dance briefs or dance belt (depending on age), white socks, and black ballet shoes.
All dancers must have long hair pulled back from the face, and ballet students must wear hair in a bun. No excess jewelry or skirts are allowed in Youth Ballet classes.
Other Dance Classes
Modern students must come to class in form-fitting and comfortable clothing with bare feet.
Adult dance students don't have to wear a uniform, but we do provide guidance. For dancing classes to go best, please remember to wear clothes that are comfortable for movement, form fitting to the extent to which you are comfortable, and refrain from fragranced products. 
Jewelry can be dangerous in movement classes, and should come off whenever possible. Please remember that the program cannot be responsible for lost or stolen items, so stow valuables with care before class. 
UIYB Pointe Shoe Guidance
For new students being advanced to pointework, your instructors have asked that you read these documents carefully. They will not replace conversations with your teachers but they have important information to set you up for success. Please work through these materials and don't hesitate to ask questions. 
A guide to buying your first pair of pointe shoes (updated Sept 22, 2022)