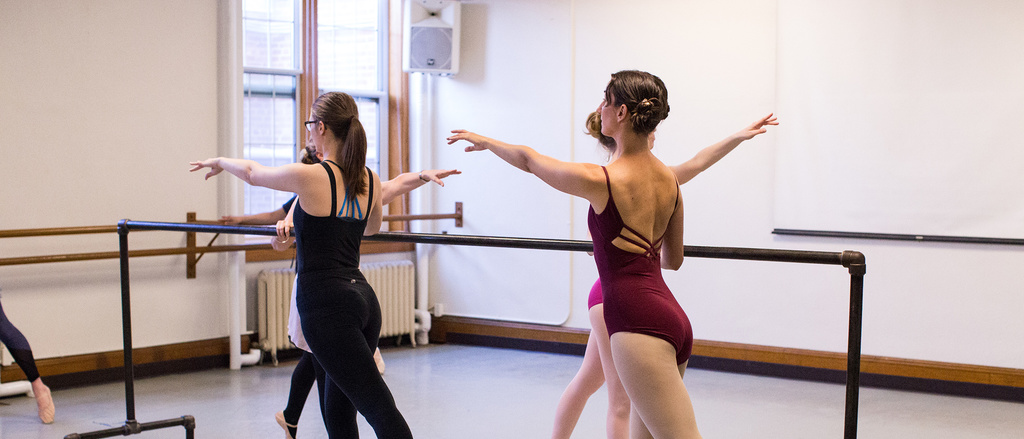 Classes build skills, but great dance classes do more. 
The UI Community Dance School offers transformative learning opportunities to adults of all ages who seek personal growth or fulfillment through movement exploration. Any given day, dancers access deep postural support, locate equilibrium, distinguish between productive tension and excessive tension, and much more. We connect (or often reconnect) learners with the joys of movement, music, and the wonders of being embodied—all while building community. 
Adults who give up part of their Saturdays to come to the studio and learn ballet—with no professional aspirations but just because they love it—are the most interesting people I know. Students often tell me class is the highlight of their week, but the rewards go both ways. They keep me going too. 

—Jason Schadt, MFA
Below are descriptions of our class offerings. We offer the unique opportunity for adults to begin or continue their dance training in an environment that challenges and encourages them to explore their movement potential.
Please note, instructor assignments mentioned below are subject to change.
Absolute Beginner Ballet and Continuing Beginner Ballet
Led by Jason Schadt, MFA (Saturdays), Juliet Remmers, MFA, RYT (Mondays)
Drawing on his background in dance kinesiology and classical ballet pedagogy, instructor Jason Schadt pioneered Absolute Beginner Ballet and Continuing Beginner Ballet in the UI Community Dance School. In these classes designed specifically for adult learners, Mr. Schadt brings a contemporary approach to richly musical classical exercises, illuminating the muscular engagement and alignment that bring about ballet movement in the body. Working from the inside out in this way, students do not merely recite the shapes and steps of ballet, but practice how to execute exercises with accuracy adhering to sound principles of anatomy and pure classical style.
Class typically begins with floor barre (barefoot), where students practice exercises designed to locate and strengthen the muscles of the inner thighs, abdomen, and pelvic floor, as well as the intrinsic muscles of the feet. Then, in exercises standing at the barre and center, students work to apply these principles to their movement in the ballet vocabulary while dancing to music carefully selected to bring out the essential character of the step or action. 
Seeking dynamic alignment rather than holding "good posture" will revolutionize your dancing experience. Your work in class can help you discover and revel in the difference. 
Absolute Beginner Ballet 
is designed for adults in their first full year of weekly year-round ballet training. Dancers of all levels are welcome if it suits their learning goals. After co-teaching this class with Jason Schadt for years during and after graduate school, Juliet Remmers started weekday night section of this class to help us reach more students hungry for the practice. 
Continuing Beginner Ballet
is designed for adults in at least their second year of weekly ballet training (for example after 38 recent classes of experience). More experienced dancers, retired dancers, and dance instructors are welcome and encouraged to take this class if it suits their goals of staying connected to nuanced movement practice. Many students have been in this Saturday class for multiple years. 
Zoom Continuing Beginner Ballet
makes it possible to join from anywhere you are. 
Linking Steps
Led by Jason Schadt, MFA
Linking steps is an add-on to the Continuing Beginner Ballet class on Saturdays. It gives interested students an extra 25 minutes of center work, effectively extending the morning class to two hours for those who want more practice. 
Intermediate Ballet
Led by MFA candidate Todd Rhoades
Intermediate ballet is named for its intermediate-level students (or previously advanced students returning to ballet). For dancers with a solid foundation in the ballet vocabulary already in place, this ninety minute class has a similar structure as traditional ballet class for youth: starting with barre work then building to traveling steps, turns, and allegro jumping phrases. Instruction and feedback in this class has adult learners in mind.
Intermediate Ballet may be more aerobic than our introductory levels, with fewer stops so that muscles stay warm. Ballet provides a great workout, with lasting benefits of toning, lengthening, and stretching.
Absolute Beginner Modern Dance
Led by MFA candidate Todd Rhoades
Welcoming beginning and experienced movers.
Warm-up, center, and across the floor exercises in the fundamentals of modern dance technique with modifications for experienced dancers. Class is typically mixed level, including beginning- to intermediate- teens and adults, and advanced ballet dancers seeking to expand their understanding of other techniques.
Conditioning for Dance (Beginner-Intermediate)
Led by Juliet Remmers, MFA, RYT
Welcoming beginning and experienced movers. 
This class will be working students on how to strengthen and condition their body for technique classes. We will be focusing on different exercises, stretches, and conditioning tactics to assist with strength, agility, and nuance. 
Mindful Flow Yoga (Beginner-Intermediate)
Led by Juliet Remmers, MFA, RYT
Welcoming beginning and experienced movers.
Mindful Flow Yoga is a slow-flow, adaptive vinyasa yoga class. The class fuses movement and meditation, teaching injury prevention and kinesiological concepts along the way. 
Dance and Flow (Beginner-Intermediate)
Led by Ellie Daley
Welcoming beginning and experienced movers.
Dance and Flow is a class designed for anyone and everyone interested in improving functional strength, flexibility, mindfulness, and building a mind-muscle connection for and through dance. The class uses elements of yoga, Pilates, and musical movement. It teaches useful strategies to target injury prevention, flexibility, recovery, and warm up/cooldowns for exercise. 
RelaXercise (Beginner-Intermediate)
Led by Joan Gonwa, MA, CMA
RelaXercise (offered spring semesters only) is a class in thorough, somatic-based exercise for strength and flexibility, in coordination with full body breathing techniques and relaxation methods to facilitate stress reduction; individualized, efficient movement; renewal of positive energy and body-mind integration.
The classes progress sequentially toward more challenging concepts, repetitions, and patterns of movement/exercises throughout the semester – thereby addressing the conditioning needs of dancers, other performing artists, athletes, and community members at large. A period of guided imagery relaxation will end each class. People of all ages, regardless of experience or acquired skills, are welcome and will benefit from this class as they work at their own pace and for their desired overall fitness goals.
To join a class click Enroll and open the enrollment form under the Adult Classes section.